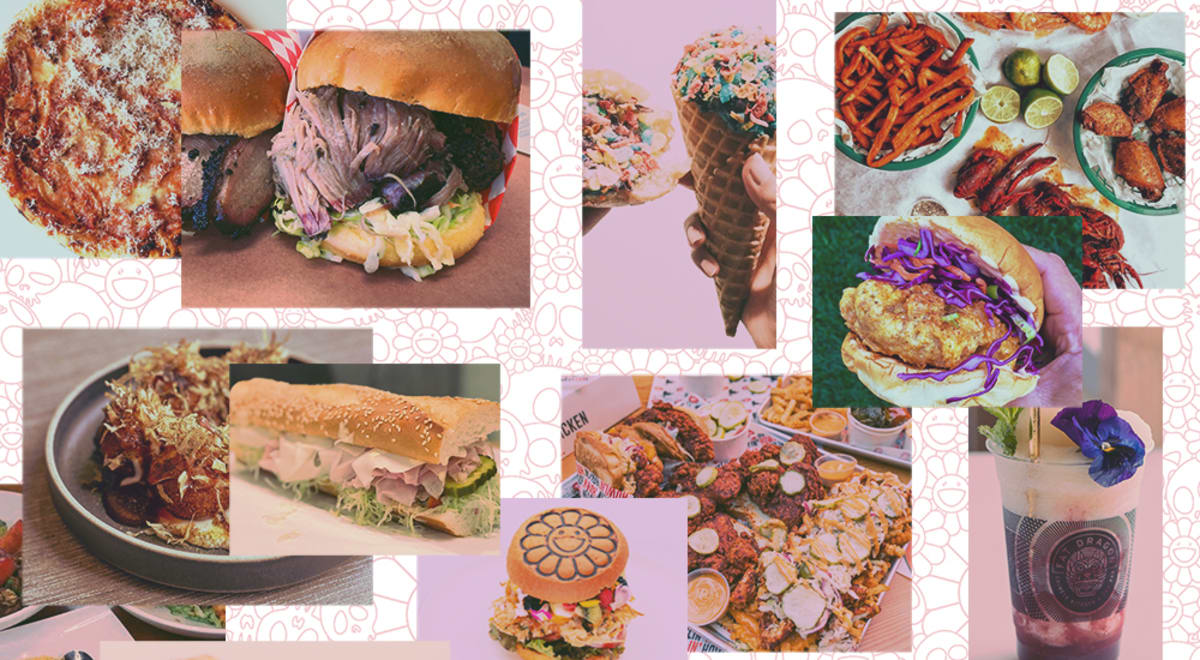 The First We Feast's culinary lineup at ComplexCon revealed!
Ever wanted to eat what you see on First We Feast? ComplexCon is making that happen IRL at this year's third annual cultural event. The "First We Feast Lagoon" is curating epic eats from the restaurants, chefs, and food trucks featured in many of the network's top shows, including "Hot Ones," "The Burger Show," "Food Grails" and more. Plus, dozens of additional buzzworthy and cult-favorite eateries will be featured in an all-new expanded food experience at ComplexCon taking over Long Beach, Calif., Nov. 3-4. This marks the first-time ever that First We Feast fans can literally eat what they watch across the network, all within a singular experience.
The highly anticipated supersized Flower Burger from Takashi Murakami and Japan-based Bar Zingaro featuring OYA Paris, and supported by IPPEI Co., LTD, makes its North American debut at ComplexCon. The Instagram-worthy Wagyu Tempura Burger and the adorable vegetarian option, the Flower Garden Burger, are edible pieces of Murakami art.
Serving up their latest creations at ComplexCon's "First We Feast Lagoon" will be Jon & Vinny's, Lotus of Siam, Howlin' Ray's, Here's Looking At You, Burgerlords, Sweet Chick, Alvin Cailan's "The Burger Show" Pop Up, Uncle Paulie's Deli, Dino's Chicken and dozens more. "First We Feast Lagoon" is a collaboration with First We Feast and Jon Buscemi, creative executive and industry insider, and Hedley & Bennett, designer of handcrafted aprons and other work wear.
Here's a sneak peek at what will be served up at ComplexCon's "First We Feast Lagoon":
Fans of "Hot Ones" can pick up the coveted Heatonist hot sauces from "Hot Ones," the First We Feast show where celebs divulge their deepest secrets while eating progressively hotter chicken wings.
And, thanks to the chicken rice specialists Side Chick, fans can eat their way through the "Hot Ones" line up of hot sauces doused atop chicken wings.
Howlin' Ray's, LA's own, cult status, Nashville style, hot chicken restaurant from Chef Johnny Zone, will debut an exclusive "The Last Dab" sandwich. Howlin' Ray's fans can also score exclusive merch at Chinatown Market and Sandalboyz in the ComplexCon Marketplace.
Try a tricked out "stunt burger" as envisioned by "The Burger Show" host and Eggslut chef Alvin Cailan. Foodies may find themselves confronting the very big challenge of eating a 10-patty burger.
Don't miss the the James Beard-nominated food truck All Flavor No Grease from the South LA street food king Keith Garrett, which was featured on "Food Grails." First We Feast's travel show exploring America's new urban food icons is heading to ComplexCon.
LA's go-to cool restaurant Jon & Vinny's will be doing a special pizza in partnership with Jon Buscemi that will be available only at ComplexCon. Hat tip: look for exclusive merch from the Buscemi x Jon & Vinny's collab at ComplexCon.
This Vegas-based Thai restaurant Lotus of Siam that's been lauded by the late, great, legendary food writer Jonathan Gold as the best Thai restaurant in North America, will be serving up "can't miss" eats famous among celebrity-patrons Pharrell Williams, Action Bronson, and the late Anthony Bourdain.
Boiling Crab, a restaurant focused on southern style seafood and crawfish boils, will be popping up at ComplexCon, which is a first-ever event of its kind for this restaurant.
Sneakersnstuff, the world renowned sneaker boutique, has partnered with Sweet Chick, the NY-based restaurant headed by John Seymour and NAS.