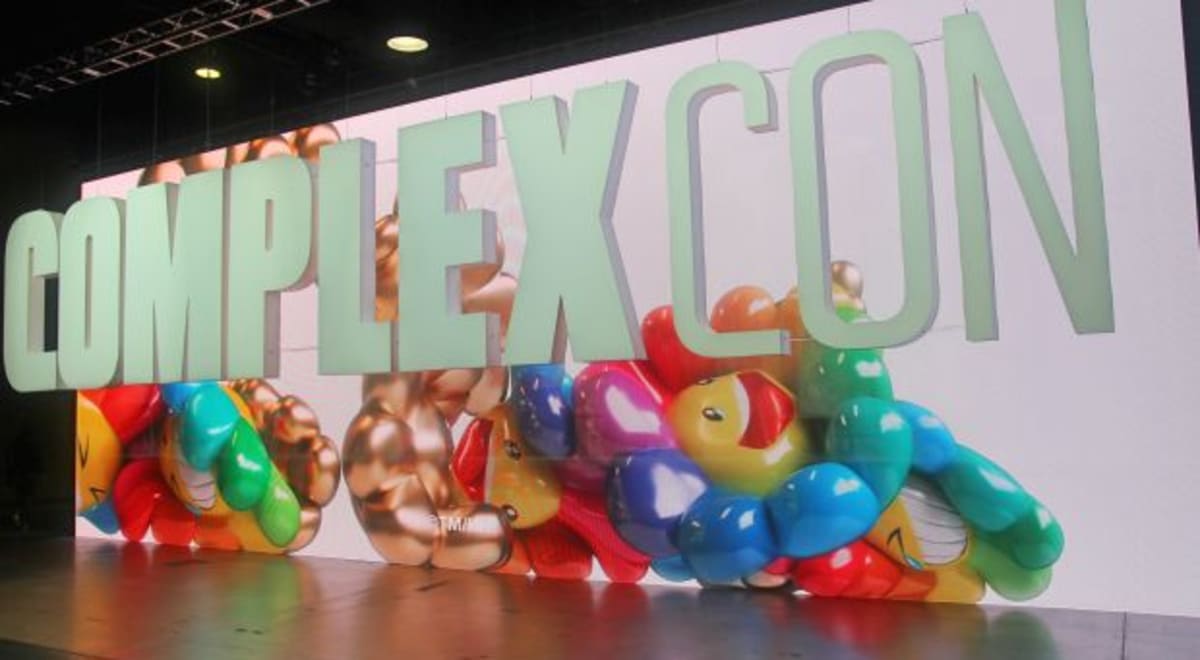 Sportswear International | Get Youth-Anized at ComplexCon
by Rebecca Cringean — November 06, 2017
This past weekend marked the second, now annual ComplexCon, a two-day event where retail meets digital meets convention meets mayhem meets hip hop meets streetwear meets lifestyle, but more on that in a moment. For two days, the Long Beach Convention Center was alive in computerized showers of Murakami smiling, psychedelic daisies, live music, exclusive sneaker previews and drop zone sales, and, somehow, that description is sorely lacking.
Everyone was there, all the brands you'd expect like Ugg, Pacsun, Adidas, G Star, New Era, Fear of God, Guess, The Hundreds and on and on, selling to racing hoards of young and young-at-heart, as the saying goes. ComplexCon sold out their VIP tix early on, offering those lucky ones the ability to literally race onto the empty floor of the grounds where they'd line up again for lithographs, exclusive kicks and all sorts of goods debuting at ComplexCon or selling only to those in attendance. Big Sean made an appearance at Puma, eBay raffled custom Nikes and Murakami screen printed tees for fans.
The minions who paid the regular old $75 admission lined up for blocks, snaking around downtown Long Beach, wearing Supreme Louis Vuitton gear, huge gold chains and neon Nikes, happily biding their time until the line moved to get them into this new sort of shopping haven. Hundreds of them even camped out the night before because who can sleep at home when there's ComplexCon looming?
Read up on the full article HERE.