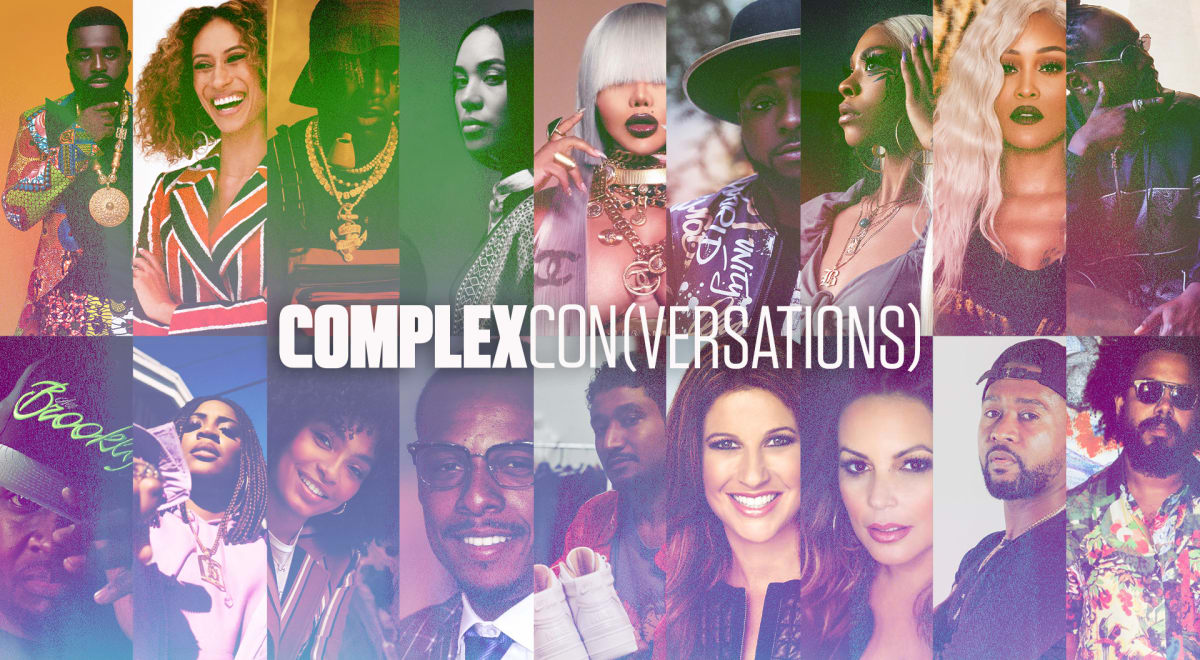 LIL' KIM, PAUL PIERCE, LIL YACHTY, DON C, AND OTHERS JOIN THE COMPLEXCON LONG BEACH LINEUP
LONG BEACH, CA - October 22, 2019 – Complex Networks today announced hot new additions to the talent lineup at its fourth annual ComplexCon taking place November 2 and 3 at the Long Beach Convention Center. Major cultural influencers such as Yara Shahidi, Isra Hirsi, Storm Reid, Lil' Kim, Trina, Eve, Lil Yachty, Elaine Welteroth, Paul Pierce, Wale, Davido, and more will participate in "ComplexConversations," Complex's original panel series. This dynamic and diverse new group will join previously announced talent Kid Cudi, DaBaby, Anderson .Paak, A Boogie Wit Da Hoodie, YBN Crew Rico Nasty, and EarthGang, for what will be another epic ComplexCon weekend. Pharrell Williams and Takashi Murakami return as Event Hosts, with Murakami also serving as Official Curator.
The newly announced thought leaders represent various generations and industries and will come together for insightful conversations on topics relevant to today's culture.
ComplexConversations currently scheduled to take place during ComplexCon Long Beach include:
Disruption: How Gen Z Is Taking Control

with

Yara Shahidi

,

Storm Reid

, and

Isra Hirsi
Moderated by The New York Times best-selling author, Elaine Welteroth
Generation Z has been called the most progressive, least partisan generation ever. They're also the most stressed out. Gen Z is comprised of bold and original thinkers dedicated to civic engagement. And guess what? They vote. As the country gears up for the 2020 elections, we host a panel of Gen Z thought leaders in conversation with young policy makers and activists about translating their disillusionment into action.

All Hail the Queens: The Women Changing the Face of Rap with Rico Nasty, Kamaiyah, Eve, Trina
Moderated by radio personality, Angie Martinez
2019 has been a record year for women in hip-hop. On any given day, there've been at least three female MCs on the Billboard Hot 100. Despite progress, women in rap still face significant challenges and hurdles. This ComplexCon panel, featuring a few of the top women in rap, will dive into the world these talented songstresses are working hard to conquer.
Sneaker of the Year with Lil Yachty, Sean Wotherspoon, Clark Kent, and Aleali May
Moderated by Complex's Sneaker Shopping Host, Joe La Puma
The return of the quintessential ComplexCon panel features Joe La Puma and guests debating the top ten sneakers of the year.
The Naked Truth: How Lil' Kim Changed Hip-Hop Fashion with Lil' Kim and Misa Hylton
Moderated by Complex's Deputy Style Editor, Aria Hughes
Do you remember the 1999 VMAs? If not, you definitely remember Lil' Kim's lilac, one-shouldered catsuit. It was one of the most memorable hip-hop style moments of all time. It was also the moment that solidified Lil' Kim's status as a legendary hip-hop trendsetter. In a conversation with Complex's style editor, Aria Hughes, the Queen Bee will sit down with her iconic, superstar stylist, Misa Hylton, to discuss futuristic fashion, empowering women, and how they influenced a generation of women to be as bad as they want to be.
What Comes After Streetwear? With Ev Bravado, Matthew Henson, and Don C
Streetwear has become mainstream. Nearly every brand that makes T-shirts and hoodies is now boxed into that category. But a new generation of designers are challenging that norm and helping redefine the next phase of men's fashion that isn't rooted in hype. On this panel, we bring together designers and fashion experts to explore why the term streetwear has become taboo, discuss the challenges brands faced trying to capture the luxury market, and to see what comes next.
From YouTube to Major Moves with Timothy DeLaGhetto, DDG, and Casey Neistat
Moderated by 'First We Feast' Hot Ones, host Sean Evans
YouTube is an important talent incubator, with its most prominent names leveraging their popularity on the platform into larger opportunities. On this panel, top YouTubers discuss how they did it and what's next.
The Rise of Afropop with Davido, Afro B, Jillionaire, P2J, and Wale
Moderated by Complex Personality, Pierce Simpson
Over the past decade, AfroPop has exploded onto the global stage with everyone from Beyonce to Drake partnering with Africa's premiere artists. And this is just the beginning. For this panel, we gathered a few of the genre's biggest names to explain how Afropop went global and to discuss where it's going next.
How the NBA Turned Into a 365-Day Empire with Paul Pierce, Matt Barnes, Richard Jefferson, and Gilbert Arenas
Moderated by Sports Journalist and TV Host, Rachel Nicholas
Interest in the NBA goes far beyond its regular season and playoffs. Thanks to social media and the abundance of superstar players and personalities, the league is thriving like no other. Free agency, trades, and all the drama in between has made the NBA the most entertaining show in sports. This panel will take a look at how the NBA has adapted to the social media era, share what players really think about NBA Twitter, how accurate all of the trade and free agent rumors really are, and give a unique perspective from the other side.
How to Make a Modern Day Rap Hit with Zaytoven, Murda Beatz, Hitmaka, Tainy, and Lil CC
Moderated by Complex personality, Speedy Morman
The sonic architects behind mega hits by Travis Scott, Future, and Jay-Z come together for a candid conversation about their craft. What does it take to craft a rap song that tops the charts? How do they get perfect drum sounds? Where do they draw their inspiration from? If you're an aspiring producer looking to glean some game on how to make it and stay true, this will be a master class.
Tickets to the fourth annual ComplexCon are available at here. VIP tickets are sold out, but Early Entry tickets are still available for $225 per day. General Admission tickets are $80 per day or $135 for a two-day package (plus fees).
For more information on what to expect at the fourth annual ComplexCon, including the full lineup of music performances, participating brands, and the First We Feast Food Lagoon stay tuned to www.complexcon.com.