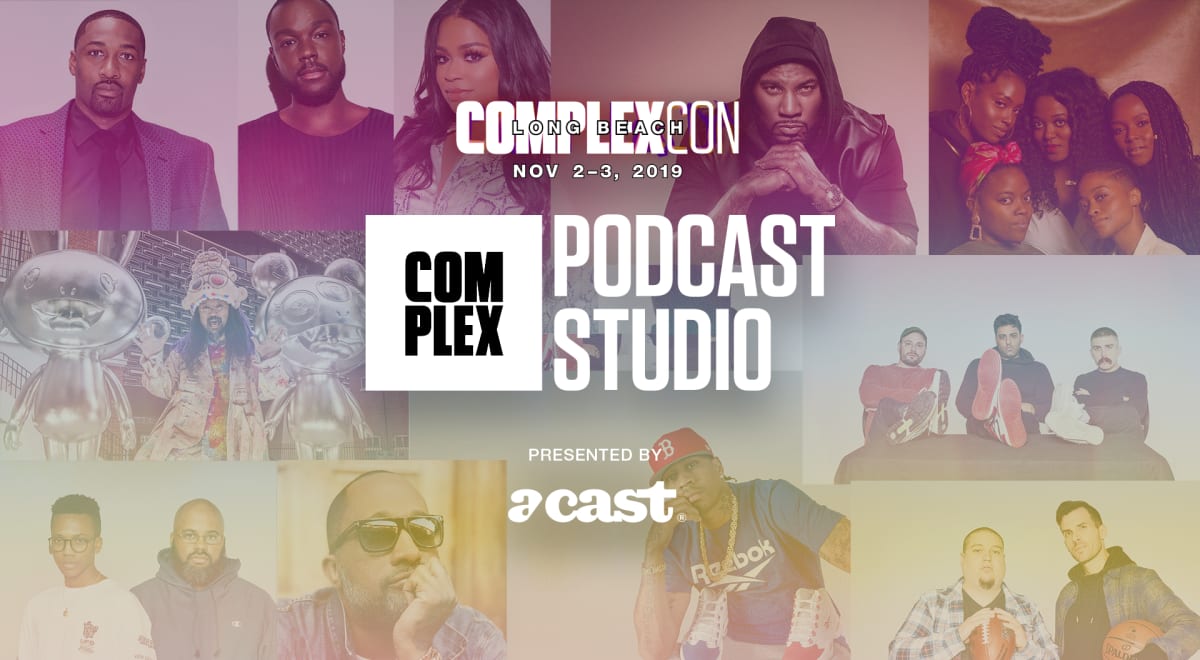 ComplexCon Long Beach Will Feature a Live 'Complex Podcast Studio Presented by Acast'
Complex Networks announced today that it will launch an always-on slate of Complex original podcasts made in partnership with Acast. Each of the three new podcasts will be available mid-November, representing diverse industries and cultures that align with Complex's core brand ethos, including pop culture, sports, and sneakers. While Complex has experimented with podcasts in the past, this is a key phase in a larger Complex Networks push in original audio experiences going into 2020.
ComplexCon Long Beach also marks the first time Complex will bring podcasts to life in front of LIVE audiences. The 'Complex Podcast Studio Presented by Acast' will feature live podcasts each day from influential shows like The No Chill Podcast, The Read, Thug Motivation, and more. Takashi Murakami will also grace the podcast stage for a special presentation. The live podcasts will include existing favorites and some new, not-yet-announced Complex Original podcasts that will be part of an ongoing content offering following ComplexCon.
"We have a track record of building big universes and fandom around our IP. And audio continues to be a natural format for us to expand into," said Myles O'Connell, SVP of Global Content Distribution for Complex Networks. "Based on our expertise of building communities online and off, we see a big whitespace opportunity for our fans to engage with this format and our talent IRL which is why we're bringing it all to ComplexCon."
The newly announced slate of Complex Original podcasts in partnership with Acast includes:
Watch Less, hosted by Khal and Frazier Tharper, Deputy Editor and Senior Editor of Complex's Pop Culture channel, respectively, is Complex's podcast dedicated to movies, television, and pop culture. The goal is to strip away the excess from the biggest stories and moments hitting television and film to get down to brass tacks: what's hot, what's not, and what's being slept-on for today's entertainment lover.
Load Management, hosted by Chopz and Adam Caparell, Deputy Editor and Senior Editor of Complex's Sports channel, respectively, is Complex's podcast dedicated to everything going on in the world of sports. Load Management aims to elevate the sports conversation through exclusive discussions with the knowledgeable staff at Complex and athletes or other members of the sports media world the audience knows, respects, and can't wait to hear tell it like it really is.
The Complex Sneakers Podcast, hosted by Joe La Puma, Host of "Sneaker Shopping," Matthew Welty, Co-host of "Full Size Run," and Brendan Dunne, Co-host of "Full Size Run," is Complex's podcast dedicated to the world of sneakers. The hosts of the Internet's biggest sneaker shows, Sneaker Shopping and Full Size Run, come together in The Complex Sneaker Podcast to discuss the most important sneaker news and topics every week, and to give expert opinions that could only come from Complex.
The 'ComplexCon Podcast Studio Presented by Acast' live tapings will include:
Saturday, November 2
ART'S NEW TREASURE ISLAND
Special Presentation by Takashi Murakami
Time: 12 - 12:45 PM PS

WATCH LESS (COMPLEX ORIGINAL PODCAST)
Host: Khal and Frazier Tharpe
Guest: Kenya Barris
Time: 3:00 - 3:45 PM PST

LOAD MANAGEMENT (COMPLEX ORIGINAL PODCAST)
Hosts: Adam Caparell and Chopz
Guest: Allen Iverson
Time: 4:15 - 5PM PST

THE READ
Hosts: Kid Fury and Crissle
Time: 5:30 - 6:30 PM PST

Sunday, November 3
NO CHILL PODCAST
Hosts: Gilbert Arenas and Mike Botticello
Time: 1:15 - 2 PM PST

THE COMPLEX SNEAKERS PODCAST (COMPLEX ORIGINAL PODCAST)
Hosts: Joe La Puma, Matthew Welty, Brendan Dunne
Time: 3 - 3:45 PM PST

BLACK GIRL PODCAST
Hosts: Scottie Beam, Gia Peppers, Sapphira, Bex, Alysha P.
Guest: TBD
Time: 4:15 - 5 PM PST

JEEZY: THUG MOTIVATION
Host: Jeezy
Guest: TBD
Time: 5:30 - 6:15 PM PST