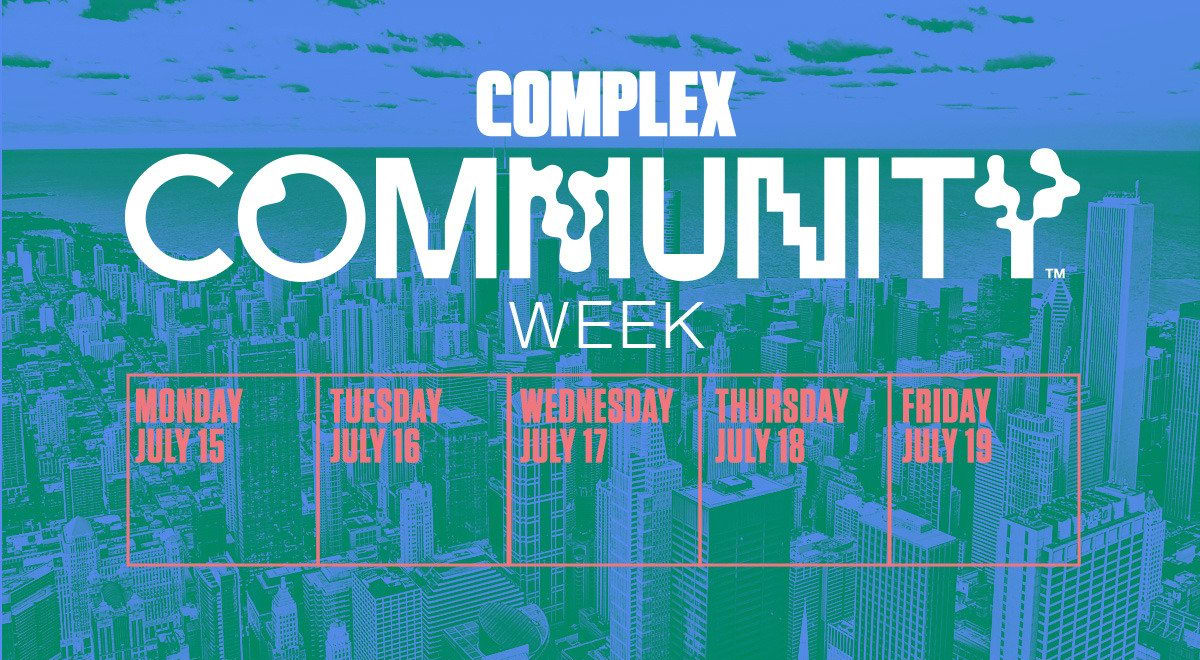 Community Week Calendar
Community Week | 06/27/2019
WEEKLONG EVENTS: Monday,7/15 - Friday,7/19
WE ALL LIVE HERE – Community Art Mural Project
WALH uses art, community, and technology to empower individuals and build communities that encourage people to work together and help each other succeed. Supported by the Obama Foundation and OMD Agency, this community-building initiative will bring together community members to create a statement piece for the B_Line mural project.
PARK REFURBISHMENT
KICKS 4 THE CITY SNEAKER DRIVE – Powered by 'adidas Originals'
For a free ComplexCon Chicago 2019 ticket, donate your new or gently work Adidas shoes to Community Week's Kicks4 the City Sneaker Drive at the adidas store.
1532 N. Milwaukee Ave.
Monday, 7/15
CHAMPION x COMPLEX COMMUNITY WEEK KICK OFF
Champion Store 6-8 p.m.
Limited-edition Champion x Complex Community collaboration sweatshirt available at event. 100% of proceeds benefit Social Works. Music, light bites, giveaways, and opportunities to win ComplexCon tickets.
PUBLIC EVENT, RSVP: CWRSVP@complex.com
Tuesday, 7/16
YOUNG CHICAGO AUTHORS, WORDPLAY TAKEOVER
Co-hosted by Complex Community
Through creative writing, YCA helps young people from all backgrounds understand the importance of their stories and those of others.
PRIVATE EVENT
Wednesday, 7/17
SOUP KITCHEN TAKEOVER
Hosted by Tao Chicago and Complex Community
Tao Chicago's executive chef Michael Armstrong presents Tao menu favorites at a community-building dinner for 100 homeless families. Special invited guest.
PRIVATE EVENT
Thursday, 7/18
STREETWEAR.EDU, STAND OUT BY STANDING FOR SOMETHING
What does your style represent? Trinidad James hosts an educational streetwear experience done the Complex (Community) way. This event features a panel discussion with local Chicago designers and an influential streetwear-industry guest. Youth from various organizations and summer programs will participate in a hat-designing workshop hosted by 47 Brand to showcase the social causes that matter to them.
PRIVATE EVENT
Thursday, 7/18 6-9pm
A NIGHT OUT AGAINST GUN VIOLENCE
SaveMoneySaveLife Foundation
A Night Out Against Gun Violence aims to promote safety, neighborhood camaraderie, and act as a networking opportunity to those interested in and or working in anti-gun-violence-focused orgs while simultaneously providing community-based resources. Staying true to Chicago culture, A Night Out Against Gun Violence will be a small-scale block party. The event will host Chicago food vendors, info booths, performances, games, and activities for all ages.
PUBLIC EVENT, RSVP: www.savemoneysavelife.org
Friday, 7/19
LEADERSHIP PANEL
A panel dedicated to highlighting leaders in the field of 1) tech and innovation, 2) social innovation and nonprofit, 3) fashion, media, and culture, and 4) mental health and wellness. Attendees from local organizations will have an opportunity to connect with top leaders in each industry and ask questions in this intimate educational experience. Special guest speakers.
PRIVATE EVENT
Friday, 7/19 5-7 p.m.
ART MURAL REVEAL AND HAPPY HOUR FUNDRAISER
Join Complex staff and Community Week volunteers for the We All Live Here mural reveal and raise funds for the selected organizations with every happy-hour purchase.
PUBLIC EVENT, RSVP: CWRSVP@complex.com
Friday, 7/19 5-8 p.m.
DREAMS UNCAGED: A KINDRED GATHERING ON JUSTICE REFORM
Join Complex and the Kindred as we address the complexities of the American justice system. Speakers from the Decarceration Collective, Buried Alive Project, Wrongful Conviction podcast, Ben & Jerry's, and Defy Ventures will explore culture's impact on justice reform and how it can be leveraged to drive lasting change.
PUBLIC EVENT (limited space), RSVP: community@kindred.live
Friday, 7/19 6-9pm
COMPLEX COMMUNITY HEROES DINNER
An intimate and exclusive experience to salute our Community Week partner organizations and celebrate local heroes in the city of Chicago.
PRIVATE EVENT
JOIN US FOR COMMUNITY WEEK BY DONATING TO SOME OF OUR FAVORITE ORGANIZATIONS.
Saturday, 7/20-Sunday, 7/21
KICKS 4 THE CITY SNEAKER DRIVE
Bring your new or used sneakers to COMPLEXCON. Stop by our Kicks4TheCity activation to enter for fun, giveaways, and all things kicks.
BEYOND COMMUNITY WEEK
#THETAKEBACK BACK-TO-SCHOOL DRIVE
#TheTakeBack is an anti-violence/gun-prevention initiative focused on the youth of South Side Chicago. Bring school supplies, new backpacks, and water bottles to #TheTakeBack annual event July 27th-28th. Sign up to RSVP, donate, or get more information at www.thetakebackchi.org
Sign up to volunteer for and participate in this week-long community-building activity.