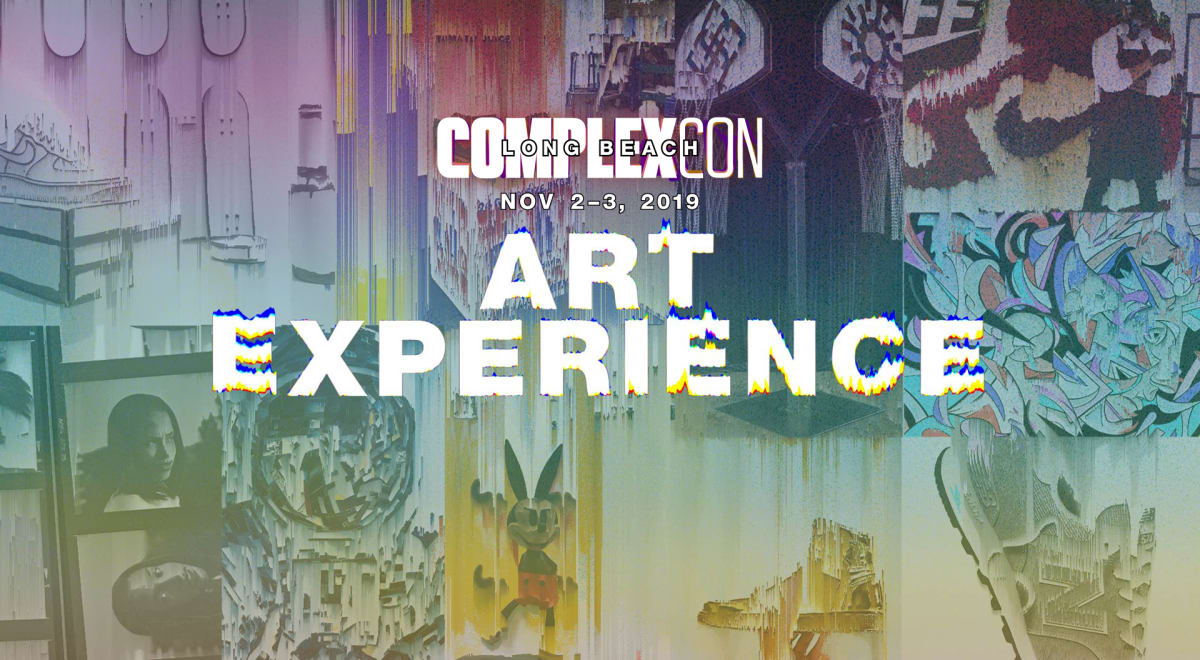 'Art Experience' is Back for ComplexCon Long Beach
ComplexCon is back and heading to Long Beach November 2–3, this time with even more internationally-renowned artists and creators in its fan favorite Art Experience. ComplexCon's Art Experience is a cultural experience where guests will have the opportunity to view work by some of the most prominent street, contemporary, and pop artists from around the globe.
Check out the list below for a sneak peek at some of the exciting collaborations coming to ComplexCon Long Beach's Art Experience:
Avant Arte: The Netherlands-based art brand return with exclusive collaborations featuring Joshua Vides, Michael Kagan and a number of other unannounced limited edition releases across the weekend
KaiKai KiKi: Takashi Murakami's popular KaiKai KiKi Gallery returns this year with a mini-art fair, featuring MADSAKI and soon-to-be-announced guest artists exhibiting merchandise, ceramics, and mo.re. The famed Tokyo-based retail shop Tonari no Zingaro will also unveil an exclusive collection here.
Mr. Flower Fantastic: Known as "MFF," this New York artist brings his floral sculpture to ComplexCon Long Beach. The self-taught Mr. Flower Fantastic's work boasts an outlandish style that contrasts with his anonymous public persona, an intentional juxtaposition intended to keep the focus on his work.
Rello: Contemporary artist and the founder of Lost Paradise, Rello comes to ComplexCon after receiving critical acclaim for his 2019 "Ozzy The Bad Mouse" figure and his art exhibit "Please Interpret As Black." He is also the cofounder of Fat Tiger Workshop along with Joefreshgoods.
Heritage Auctions: Heritage Auctions is the largest collectibles auctioneer and third largest auction house in the world.
Bustercall: Bustercall brings their One Piece World Art Gallery to ComplexCon Long Beach.
Steph F Morris: Steph Morris is a UK artist who uses pencil and paper to create timeless pieces that explore the intersection of fashion and culture. Her work has attracted global acclaim, receiving attention from both big brands and industry icons.
Over the Influence x Garey The Third: LA-based gallery Over the Influence partners with contemporary brand Garey The Third to bring collaborations and limited editions from emerging artists and designers to ComplexCon Long Beach.
FRUiTS Magazine x Sumire Ishioka: Since 1997, Shoichi Aoki's FRUiTS Magazine has documented street style in Tokyo's fashion center, Harajuku. This November, it will unveil its latest collaboration with designer Sumire Ishioka at ComplexCon Long Beach.
Les (Art)ists x Damien Hirst: Independent Parisian clothing brand Les (Art)ists comes to ComplexCon Long Beach to unveil its new capsule collection of four T-shirts designed in conjunction with Damien Hirst. Les (Art)ists is known for its take on American football jerseys, while Hirst is among the world's greatest living artists, having created works that explore the complex relationships between beauty, religion, science, life, and death.
Spoke Art: San Francisco's Spoke Art teams up with Hashimoto Contemporary to bring ComplexCon new works by some of the fine art scene's leading voices.
Soto Gang: Spearheaded by multi-hyphenate artist Manuela Soto, "Soto Gang" brings its combination of tattoo, art, and fashion to ComplexCon Long Beach. Her work subverts traditional notions of beauty and identity, creating composite portraits of women she calls Soto Girls.
Victor Solomon "Literally Balling": With "Literally Balling," Victor Solomon unveils his latest collection of hand-crafted stained glass backboards inspired by Los Angeles' ubiquitous schoolyard basketball courts. The exhibition examines basketball as a class vehicle, appropriating the sports' universally accessible imagery to ask questions about wealth and inequality.
In addition to the above, the Art Zone will also feature works from Brandon Breaux, Off Safety x Aaliyah, Never Made, Matt Senna, Keith Haring x G-Shock, Nikko Washington, Uzumaki, and more.