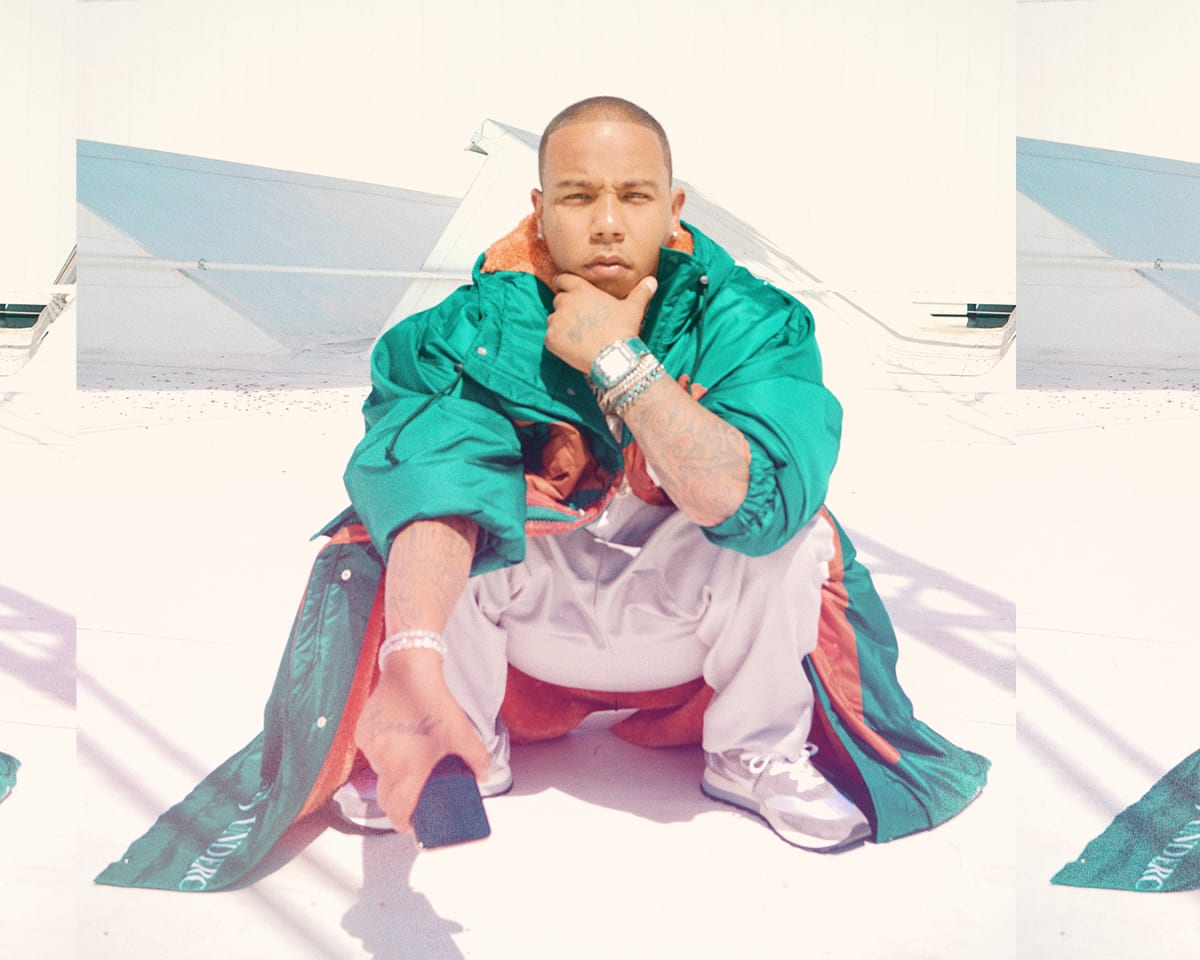 True leaders impact every corner of music.
On tracks as a producer, behind-the-scenes as an executive, and in the boardroom as a businessman, Hitmaka leaves an inimitable impression on each aspect of the game. With a discography encompassing 20 million digital sales and 5 billion streams by 2019, the Chicago-raised and Los Angeles-based music maven leverages expansive creative spirit, a knack for production, and an inventive vision on his 2020 full-length debut for Atlantic Records and more releases on the horizon.
"It's always really the same thing," he explains. "I just want to make hit records. Whether I'm working with another artist or on my own project, I go hard to create quality music. There's no ego. I get aggressive in the pursuit of what I want. If I have to call someone 50 times to get a verse, I will. The focus is on making all-star, all-time records."
That's what he's been doing since day one. Back to his come-up in The Chi, Hitmaka learned production under the tutelage of hometown legends such as Kanye West, No I.D., and Boogz by hanging around the studio at 14-years-old. A year later, he landed his first deal with DMX's Bloodline Records under the name Yung Berg. On his chart-topping 2008 full-length, Look What You Made Me Do, he produced six records, including "One Night" [feat. Trey Songz], "Sexy Lady" [feat. Junior], "Do That There" [feat. Dude 'n Nem], and "The Business" [feat. Casha]. Not to mention, he earned a double-platinum plaque for his smash collaboration with Ray J, "Sexy Can I."
At the same time, production called to him.
"Once I stopped rapping full time, I went down to Miami, linked up with a lot of different people, and developed my talent and songwriting for about a year," he recalls. "One day, I was in the studio, and I started repeating the word, 'Hitmaka'. I felt like, 'That's it right there'. I moved to Los Angeles, and it provided a lot of different opportunities for me."
After he produced "The One" for Tamar Braxton in 2013, the floodgates opened. Among a string of hits, his discography includes the quadruple-platinum "Bounce Back" for Big Sean, the platinum "Party" [feat. Usher & Gucci Mane] for Chris Brown, the platinum "Look Back At It" for A Boogie Wit Da Hoodie, the platinum "No Stylist" [feat. Drake] for French Montana, "Dangerous" [feat. PnB Rock & Jeremih] for Meek Mill, and "Blue Tint" for Drake, among many others. Simultaneously, Atlantic Records handpicked him as Vice President of A&R. He also personally signed RHKY in 2019.
Now, he introduces his forthcoming debut as Hitmaka with the blockbuster 2019 collaboration "Thot Box" [feat. 2 Chainz, Meek Mill, Tyga, A Boogie Wit Da Hoodie, & YBN Nahmir]. Airy west coast keys resound through a glitch-y 808 snap as a hi-hat simmers. This groove stands out as the perfect sonic backdrop for this once-in-a-lifetime crew to deliver one clever and catchy rhyme after another before the hypnotic hook, "Get up in that Thot Box."
"Throughout my career, I've always been able to put records together for different people," says Hitmaka. "Once I had the hook, I knew who I wanted on it. I got Nahmir, Meek, 2 Chainz, Tyga, and A Boogie. Everybody was feeling it. They say, 'It's a hot girl summer,' so we had to tell the other side of the story from the male perspective," he laughs. "We love all women. You watch, the girls are going to love this."
In the end, Hitmaka always lives up to his name.
"I want everything to feel timeless and classic and stand the test of time," he leaves off. "Traditions and trends come and go. I hope my music is here fifty years from now. I'm trying to bring back the real substance and elements from the nineties and two-thousands I love. It starts with 'Thot Box'. It's going to be a takeover. I'm excited for hits, more hits—and more hits."
Sunday, November 3
The sonic architects behind mega hits by the likes of Travis Scott, Future, and Jay-Z come together for a candid conversation about their craft. What does it take to craft a rap song that tops the charts? How do they make the perfect drums? Where do they draw their inspiration from? If you're an aspiring producer looking to glean some game on how to make it and stay true, this will be a master class.