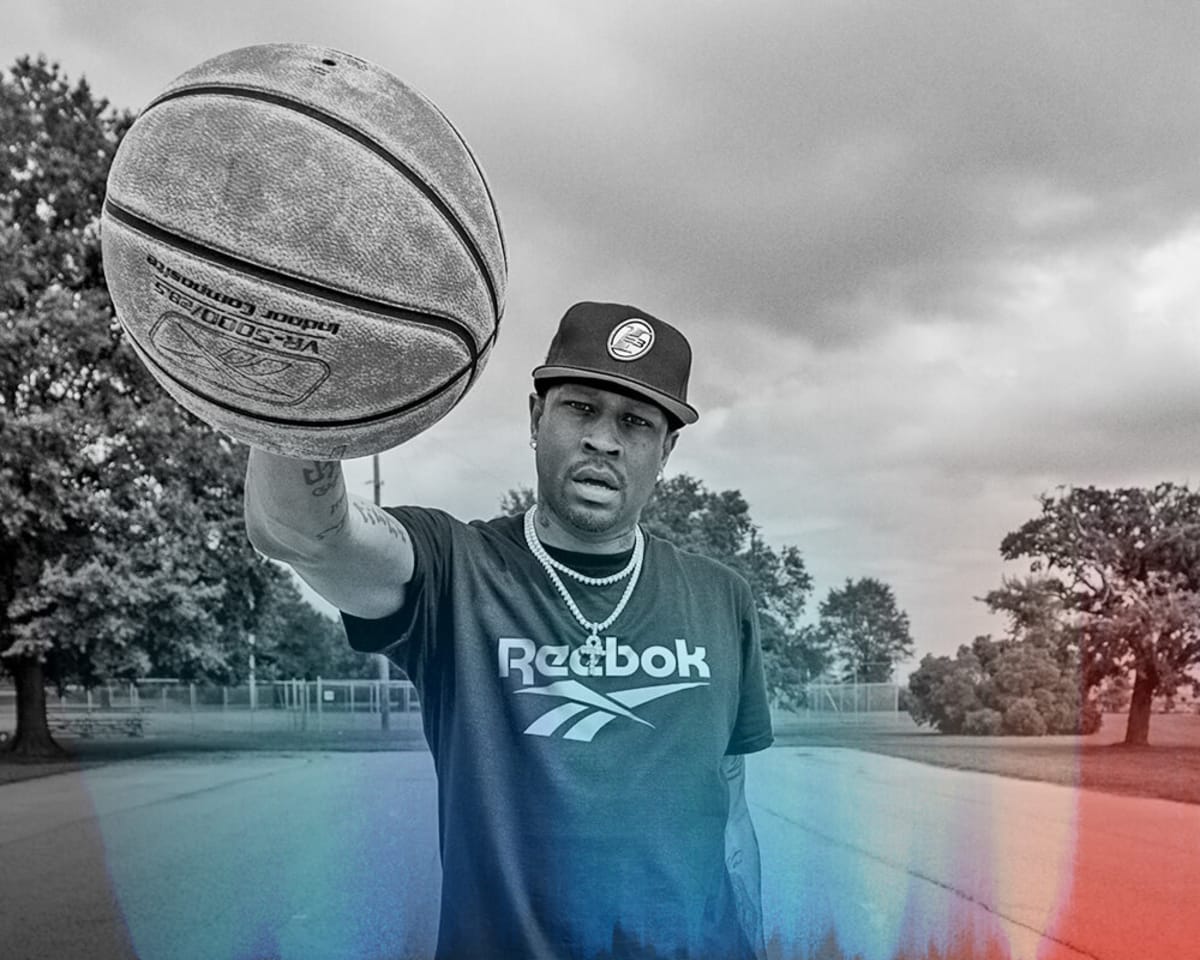 Allen Iverson was born on June 7, 1975, in Hampton, Virginia. His athleticism was realized at a very early age, and it was football that he thought would be his ticket out. Little did he know that basketball would be what he became known for around the world.
He attended Bethel High School and established himself as the Bethel Bruins best all-around athlete, and was honored as the top quarterback in the state of Virginia after his sophomore year. Basketball, though still his second favorite sport, opened other options.
At just under six feet, he became one of the most recruited athletes in the country for both football and basketball. After high school, Iverson attended Georgetown University and was the first athlete to leave the Hoyas for the NBA, after only his sophomore year. During his time there he set the record for career scoring average (22.9 points per game) and was named the Big East Defensive Player of the Year both seasons.
Iverson was selected by the Philadelphia 76ers as the number one overall pick in the 1996 NBA Draft. He is an eleven-time All-Star, two-time All-Star MVP and League MVP. Additionally, he represented the United States in the 2004 Summer Olympics, winning the bronze medal.
He changed the game with his signature moves, as well as his controversial look on the court. Adorned with his shooting sleeve, cornrows, tattoos, and lethal crossover, Iverson achieved something far greater than expected from his slight frame. He's the proud father of five: Tiaura; Allen II (Deuce), Isaiah Rahsaan, Messiah Lauren, and Dream Alijha.
Saturday, July 20
JUL 20, 6:30PM - 7:00PM

Since its inception, hip-hop has made sneakers part of the lifestyle. From the adidas Superstar to the Nike Air Yeezy, we explore sneaker culture through hip-hop and the personalities who rocked them.
SPONSORED BY:

Sunday, July 21
JUL 21, 1:00PM - 1:30PM
Sole Collector's Full Size Run is a weekly sneaker talk show featuring co-hosts Brendan Dunne, Matt Welty, and Trinidad Jame$. These three hosts go through the week's news in sneakers and style while interviewing guests who are at the forefront of sneaker culture. In the Drip, Flip, or Skip segment, the panel rates what you should or shouldn't be copping and the best and worst outfits of the week.