COMPLEXCON FAQ
General
Who is the Organizer?
ComplexCon is brought to you by Complex Networks, the youth culture media company.
What is ComplexCon?
ComplexCon is an expertly-curated festival of the future, bringing together the world's most influential brands and artists for an immersive and unforgettable two days of style, sneakers, art, food, music, inspiration, and more. Add your energy to ours and experience the future of pop culture this November 19–20 in beautiful Long Beach, CA.

This year's artistic director is the world-conquering Japanese graphic artist Verdy. He's the creative force behind style brands Girls Don't Cry and Wasted Youth, you've seen his work gracing the back of Messi and Mbappe at PSG this year – and he's been part of the ComplexCon family since 2017. Verdy will be inviting his friends and collaborators from all over the world to join him this year; brands like Awake NY, UNION, Born x Raised, Undercover and more!
Where is ComplexCon?
Long Beach Convention Center
300 E. Ocean Blvd Long Beach, CA 90802
When is ComplexCon?
Saturday, November 19 & Sunday, November 20

VIP & Genesis | 9 AM - 7 PM
GA | 11 AM - 7 PM
Do I need to bring cash?
No, most exhibitors will accept credit cards and there will be ATMs available onsite.
What should I expect at ComplexCon?
ComplexCon is programmed to be unlike any other experience. With conversations and panels featuring some of the most fascinating minds in pop culture, high-energy musical acts, a marketplace that can't be missed and first-to-world exhibits and art installations, ComplexCon is part-festival, part-exhibition that brings you your digital obsessions IRL.
Who are the Guests?
Can I Take Pictures?
For the most part, you're welcome to take pictures and videos at ComplexCon. Note that recording (including live-streaming apps) and flash photography are not permitted in panels, performances/concerts or screenings. Please understand that Guests may or may not pose for photographs with Fans. Guests have a right to their privacy and if they ask not to have their picture taken, please respect their wishes. We reserve the right to deny entry or remove from ComplexCon any person who in our sole and absolute discretion is behaving or threatening to behave in a manner which we reasonably consider to be disruptive to ComplexCon.
Will I be on camera?
ComplexCon attracts local, national and international press. In consideration for being admitted to ComplexCon, attendees understand and agree that they may be recorded (by audio, visual and/or other means) ("Recording") for exhibition and use in all media now known or hereafter devised worldwide in perpetuity.

Attendee also hereby: (1) releases Complex, ComplexCon and Reed Exhibitions from any liability for loss or damage to persons or property, infringement of any right or any other claim or course of action of any kind; (2) authorizes and permits Complex, ComplexCon and Reed Exhibitions and its designees which include but are not limited to all parents, affiliates, sponsors, exhibitors and contractors, to use his/her name, voice, likeness and all reproductions thereof; and (3) agrees to comply with all rules and regulations of ComplexCon.
Will Guests interact with fans?
We're expecting several high-profile special guests at ComplexCon but any interaction with fans is solely at their discretion.
Is there a Coat Check?
Do you offer Accessibility (ADA) Services?
Yes
Companions for those that require medical assistance need to buy a ticket. If your companion will be provided by a company, please email us at contact@tenfiftyent.com so that we can help you make arrangements.
Please review the ADA Guide for more information.
Music
Do the 2-Day and Sunday General Admission Tickets include the Arena Concert?
NO. Unlike in the past, the Arena Concert is not included in the Event Ticket. This year, the concert will be a separate ticketed event. Attendees must purchase an Add-On concert ticket at the time of checkout.
Who will be performing on Sunday?
This year's Sunday night headline performance will be none other than cultural legend NIGO® who is bringing his rolodex-flexing I KNOW NIGO® record to life, featuring special guest appearances.
Do the VIP and Complex Genesis Tickets include the Arena Concert?
Can I purchase a Saturday General Admission Ticket and an Add-on Concert Ticket?
Unfortunately not - the concert ticket will require you to purchase a Sunday or 2-day General Admission Ticket.
Will the Pigeons & Planes Stage be back on the show floor?
Yes! The Pigeons & Planes Stage will be on the show floor and available for anyone with an Event Ticket.
Health & Safety
All attendees agree to follow venue policies (including health and safety policies) and posted instructions while at the venue. By purchasing a ticket, you agree to comply with all applicable Federal, state, and local laws, ordinances, regulations, and the rules of the Event Organizers when attending the Festival. Policies may change according to local mandates.
Ticketing
Who Needs a Ticket?
You need to purchase a ticket in order to attend ComplexCon. All tickets shall be in the form of a wristband, which must be worn at all times while attending ComplexCon.
Event tickets DO NOT include access to the Concert in the Arena. Attendees must purchase an Add-On concert ticket at the time of checkout.
All attendees age 6 or older need a wristband ticket ("Wristband") to enter ComplexCon. Please note, ComplexCon Management recommends all individuals under the age of 18 attend with a parent or legal guardian. All individuals under the age of 13 must be accompanied by a parent or legal guardian at all times at ComplexCon.
Please note, access to ComplexCon is subject to compliance with our Code of Conduct and our Terms of Service.
For all other ticketing information, please refer to the Ticket FAQ page.
What is the Refund Policy?
All Wristband sales are final. No refunds or exchanges. Wristbands are non refundable and non transferable. If you have misplaced your Wristband, you will be charged the full ticket price for a replacement. ComplexCon is a rain or shine event. The Guest & Artist lineup is subject to change.
Can I have my wristband shipped?
Yes. Orders must be placed by October 30th. Any orders placed after October 30th will be held at Will Call.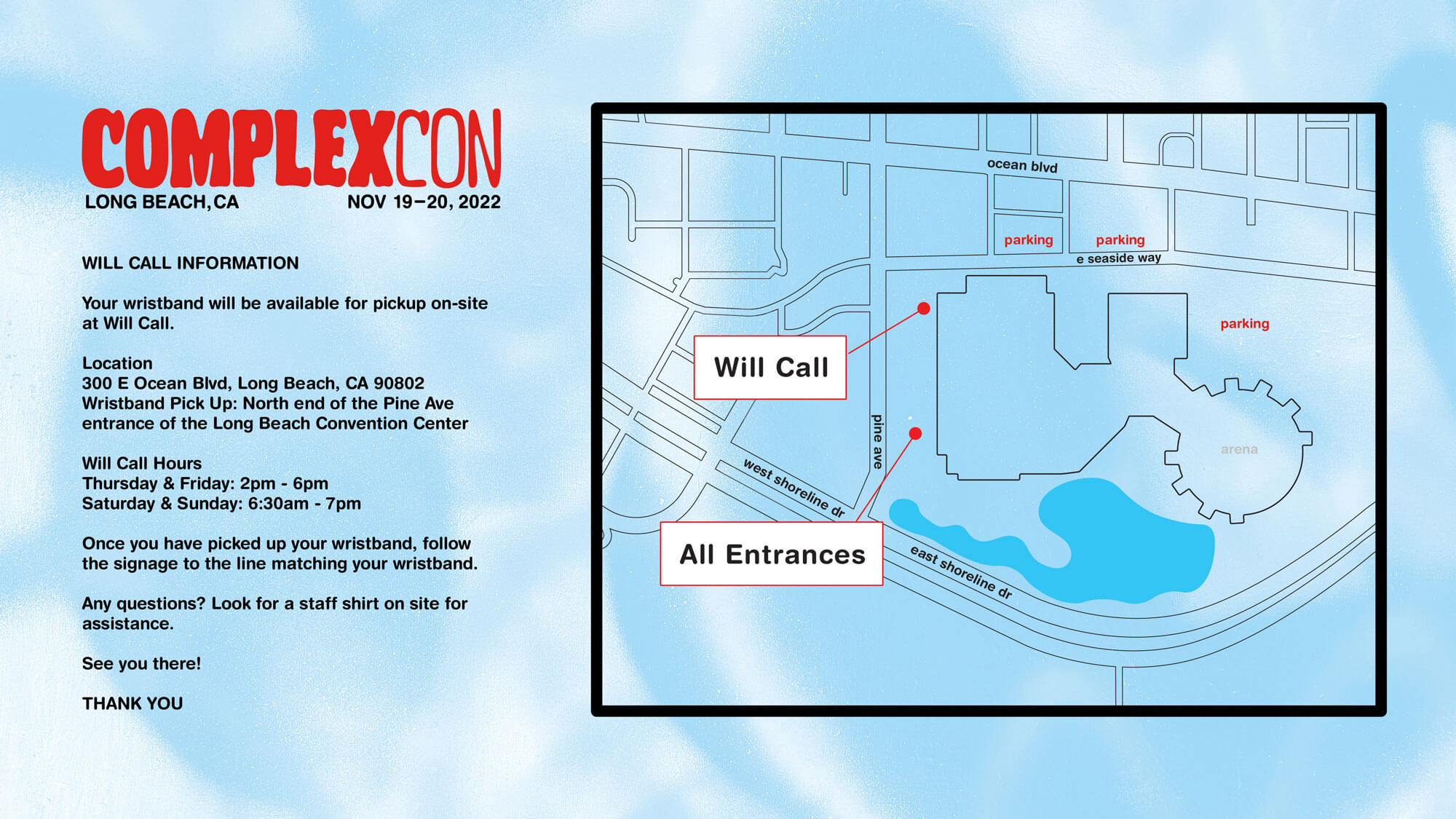 I need help with my ticket, who can I contact?
I purchased the Complex Genesis Pass, when can I mint my NFT?
Genesis pass holders will receive an email with minting instructions at a later date, prior to the event.
Security
What if I am Harassed?
ComplexCon has a ZERO TOLERANCE POLICY for harassment of any kind. If a person engages in harassing behavior, ComplexCon Management/staff will take prompt action in any form they deem appropriate in their sole discretion, including expulsion from ComplexCon with no refund or compensation. This policy applies to EVERYONE at ComplexCon. Exhibitors, attendees, speakers, guests, professionals, media, staff, volunteers and security are all subject to the Anti-Harassment Policy. By using a Wristband and attending ComplexCon, Holder acknowledges and agrees that Holder has read and agrees to the ComplexCon Anti-Harassment Policy.
What security measures are in place?
The safety and security of our staff, exhibitors and attendees is our priority. We work closely with the venue, corporate security, state, local and federal law enforcement authorities to identify risks, assess them and develop security plans for ComplexCon.
We have established a security room at ComplexCon to ensure effective communication and response.

Everyone attending ComplexCon should be aware of the following security measures:

Security will be onsite at all times to assist you during all aspects of ComplexCon.
Everyone must wear their ComplexCon Wristband at all times. This includes exhibitors, vendors, attendees, guests (speakers, talent, artists), professionals, media, and staff.
A fully operational security team following our vetted procedures is in place at ComplexCon.
Bag checks may occur at ComplexCon.
Walkthrough or hand held scanners may be used at ComplexCon.
Any CCTV in operation at ComplexCon is monitored and recorded.
Uniformed and undercover security will be in attendance at ComplexCon.
Uniformed and undercover Police may be in attendance at ComplexCon.
Canine Security and Detection may be used in or around ComplexCon.

All attendees are requested to:

Keep personal property with you at all times and do not leave any items unattended
If you see something, say something. Report anything that looks unusual, suspicious, or out of place to ComplexCon staff or Security immediately
Remain patient and courteous during security checks and follow the instructions of ComplexCon staff and Security at all times
Properly dispose of your ComplexCon Wristband inside the venue or keep it as a souvenir – please do not throw it away in trash cans outside the venue where it could be picked up. Wristbands are non-transferrable and selling or providing Wristbands to scalpers is expressly prohibited.
Carry a valid form of photo ID at all times
What can I bring with me?
BABY STROLLERS
BACKPACKS, PURSES, HANDBAGS, TOTES, FANNY PACKS (max size 20"x15"x9")
CAMERAS
CERTIFIED SERVICE ANIMALS
EMPTY WATER BOTTLES
What items are prohibited?
HAND CARTS
TROLLEYS
OVERSIZED STROLLERS
ROLLING LUGGAGE
WHEELED BACKPACKS
OUTSIDE ALCOHOL
DRONES
CIGARETTES
DRUGS OR DRUG PARAPHERNALIA (this includes cannabis and cannabis products. Prescriptions must be in properly labeled containers that match the holder's ID)
E-CIGARETTES / VAPE PENS
CAMELBAKS
SKATEBOARDS / SCOOTERS
OUTSIDE FOOD OR DRINK
ANIMALS (except service dogs with proper paperwork)
PAINT PENS, SHARPIES, MARKERS
SPRAY CANS
CHAIRS
COOLERS
PROMOTIONAL MATERIALS (flyers, samples, giveaways)
Travel
How do I get there?
FROM ORANGE COUNTY / SAN DIEGO

Take I-5 North. Keep right to take CA-73 North (Toll Road). Merge onto I-405 North / CA-22 West (San Diego Fwy). Exit on the left toward Long Beach. Merge onto the CA-22 West via Exit 23. CA-22 West becomes East 7th St. Turn left onto Long Beach Blvd.Turn Left onto E. Ocean Blvd.

FROM HOLLYWOOD / LOS ANGELES

Take US-101 South to I-710 South. Then take I-710 South to W Shoreline Dr. via Exit 1C. Continue on W Shoreline Dr. to W. Seaside Way.

FROM SANTA MONICA / LOS ANGELES

Take 10 East to I-405 South. Then take I-405 to I-710 South to W Shoreline Dr. via Exit 1C. Continue on W Shoreline Dr. to W. Seaside Way.

FROM THE INLAND EMPIRE

Take CA-91 West to I-710 South. Then take I-710 South to W Shoreline Dr. via Exit 1C. Continue on W Shoreline Dr. to W. Seaside Way.
Does ComplexCon offer discounted hotel rates?
Yes! ComplexCon works with CrewFare to help secure the best hotel rooms at the best rates near the Long Beach Convention Center.
Please visit https://complexcon.crewfare.com/ to book your hotels.
Will there be a shuttle service?
No, but there is a Metro stop across the street from the Long Beach Convention Center. Please visit the Metro website for departure and arrival times.
Questions