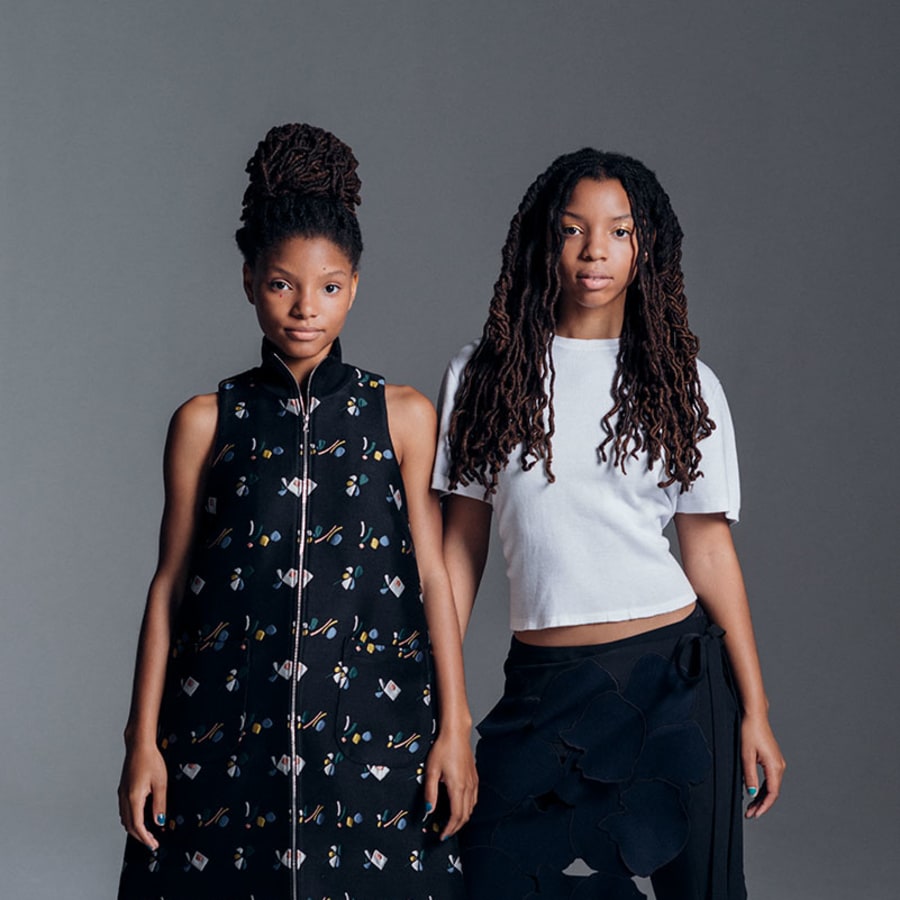 CHLOE X HALLE
Sun Nov 5, 12:45pmPigeons & Planes Stage
follow
Talk about soft power. Chloe X Halle Bailey roll out their stunning debut EP braided by numinous forces equal to their sibling DNA: Mystically layered harmonies, peerless production instincts, and an adjoining R&B/pop destiny intertwined with mentor Beyoncé (who, incredibly, initially met the girls on a film shoot more than a decade ago), all setting the table for their genre-pushing debut "Drop."
There's something truthful and unprocessed about the girls' shimmering vocal prowess. Produced by 18-year-old Chloe, "Drop" alights with 16-year-old Halle's chilling intro effortlessly descending into big sister's stylish pop mezzo, their shoulder-to-shoulder symmetry on glide throughout the entire 5 song EP. Spartan beats and cavernous bass lines highlight their daring rhythms with the duo's estimable songwriting abilities driving it all. Whether it's the Hazebanga and Hit-Boy (Jay-Z, Drake, Mary J. Blige, among others) produced "Red Lights," or the electro-pulse of "Lazy Love," produced by London whiz-kid Samir, or the girls' other self-produced gem, the alluring ballad "Fall," you come to understand their thoughtfully-etched twitter tag as a clue to their unbreakable bond: 'Individually we are one drop – together we are an ocean'.
Chloe X Halle navigated YouTube's pop landscape with a string of jaw-dropping covers the past couple of years. Their eclectic playlist covered the likes of Christina Aguilera, Alicia Keys, Nina Simone, Lorde, and John Legend, among others – revealing their gift for creating keening harmonies and genuine musical moments that showcase their expansive range (and instincts for flipping expectations, as they do on their brilliant realignment of a Yo Gotti track). It was their soulful rendition of Beyoncé's own "Pretty Hurts" that caught the attention of the mogul's Parkwood Entertainment imprint in 2013, garnering millions of views around the globe and ushering them into the fold as one of her touchstone artists. The signing has kicked off an incredible chain of events for the already prolific young duo, from splashing the pages of Elle and EW to appearing in Beyoncé's visual tour de force, Lemonade. The girls' locs - magically woven together in their own breathtaking video for "Drop"- has also become a trademark of sorts; but the most impressive weapon in the Chloe X Halle arsenal is their songwriting.
"We're so fortunate to be involved with Beyoncé," says Chloe. "Working with her has helped us truly realize our gift. After we came to Parkwood, we stopped doing the YouTube covers to work on our own music, but we were also concerned it might take a while for fans to get to know this side of us. Beyoncé gave us the artistic freedom to challenge ourselves. We'd write and record in our home studio doing batches of songs and she would give us all her feedback. She let us grow as writers and we were thrilled when "Drop" was chosen to be one of the first songs to show what we could really do."
Halle cites the growth process involved in writing hundreds of songs, huddling together as a duo or seeking out collaborators: "We took everything in like sponges. When you have the opportunity to work with great people you learn a lot about yourself, as well."
It didn't hurt that Chloe was already skilled at keyboards and production techniques, and Halle had a knack for the guitar. "A few years ago our dad gave us basic music lessons, taught us song structure and how to use the tools to make music. It all came in handy during the writing sessions."
The ongoing creative cycle took them to London in January to collaborate with up-and-coming UK producer Samir. "We were there for 10 days working. It was so much fun," says Chloe. "When we first heard Samir's beat it immediately made us want to dance so we knew we had to counter it with our melodies.
But it was the girls' own "Drop," along with "Fall," both produced by Chloe, that raised their confidence level and desire to work those edges even more. "'Drop' was one of the earlier songs we wrote and we felt strongly about it from the beginning," says Chloe. Halle says the familial rapport between the two sisters proved that inspiration for a track could come from places unspoken. "Sometimes it's just a sense of something. When we started writing 'Drop' we wanted to talk about a song that was stuck in our head without sounding so straightforward, so we thought of personifying the song like a relationship. The connection we have can get us to something different a lot quicker.""
Chloe adds: "The harmonies and melodies just come as we try out things on each other. We used to only sing separate parts for a while, but one day our voices just clicked. I think when we started being home schooled the time we spent together made our bond even stronger, and we became aware of how in sync musically we really were."
Born in Atlanta, and currently residing in Los Angeles, it was acting that first stirred the girls' imaginations when they were younger, auditioning for parts as early as 3 years old, with film and TV credits that include Joyful Noise, Meet The Browns, Austin & Ally, The Last Holiday, and The Fighting Temptations, among others. The latter movie, a 2003 film starring Beyoncé would also be the first encounter the girls had with the star. "It's amazing but true that we first met Beyoncé on the set of The Fighting Temptations," says Chloe. "It was the very first job I auditioned for, I played little Beyoncé. I still remember the wrap party and her dancing with me. It's crazy, realizing how the universe comes full circle and us being blessed with the wonderful opportunity of working with her now." It would be only a few years later that the girls would win their first singing talent contest, deciding soon after to pursue their musical dreams together.
Blessed with the same bearing and composure inherent in their confident sound, they credit their stable family life as a source of constant support. "Our parents have always been there for us," says Halle. "Yet, they've never sugar-coated anything as we've reached for our goals and had our share of stumbles along the way. They keep us in check."
"They taught us to treat people how we would like to be treated," adds Chloe.
Chloe and Halle's parents also encourage the girls to be grateful when it comes to accruing career milestones, stressing the importance of renewal and self-empowerment for all future endeavors. "We do this thing every New Year's Eve as a family called a 'Vision Board,'" says Halle.
"We all gather and cut out things in magazines – quotes and things representatives of our goals or just good wishes, and we paste them on the board on December 31, and then we present it after the ball drops. I pasted 'Lollapalooza' on it this year," she laughs.
"But you'd be surprised. I pasted 'Michelle Obama' on there and a few months later we got to meet her at South By Southwest, and then we were invited to the White House."
Their memorable experience with the First Lady was augmented by their participation in the FLOTUS inspired 'Let Girls Learn' campaign, a U.S. government-wide initiative launched by the President and the first lady to help the more than 62 million girls who are not in school get access to education. Chloe and Halle recently lent their voices to the song "This Is For My Girls," for the initiative, which included Kelly Clarkson, Missy Elliott, Zendaya, Lea Michele, Jadagrace, Janelle Monáe and Kelly Rowland. "She is such a wonderful person," Halle says of the First Lady. "Someone we can all aspire to be more like."
When asked if the girls consider the role they may now play as an influence in some future fan's life at such a young age, they smile. "We always strive to be better people, and it's important to us that we are best friends, too," says Halle. "We're still absorbing everything that's happened to us, thankful for the people who helped blaze our path." With a fondness for jazz, she cites Billie Holiday as someone she admired even at the earliest age. "She wasn't afraid to put it out there." It wouldn't be too much of a stretch to say you can almost sense the echo on . "Halle's an old soul," laughs Chloe. "But she can play a wicked guitar."